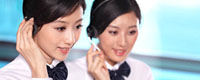 Name: Wangweiji(General manager)
Tel: 86-10-6280 0700
Fax: 86-10-6280 0297
Mobile: +86-13911690083
E-mail: WangWeiJi@clima.org.cn
Add: 3A07,YinGu Plaza, NO.9 West Road, North Fourth Ring Road, Haidian District, Beijing 100080, China PR

Details:
C70 open-top wagon
Main structure: This wagon cosists of the car body, bogie coupler and buffer and brake system. The car body, consisting of under frame, side wall, end wall, car door and other components, is full of steel welding structure. The main section steel and material are Q450NQR1 high intensity weatherresistant steel. The bogie is type system K6 or K5. The air braking adopts airbreak system with the main pipe pressure of 500kpa and 600kpa. It mainly consists of 120 type control valve, 305mm-diameter integral spinning sealed type brake cyclinder, ST2-250 bidirectional brake shoe slack adjuster, KZW-A empty and load brake regulator and freight car derailment automatic braking system. Manpower brake system is type hand brake. The coupler and buffer is 17 type interlock or new coupler in E-level steel material, MT-2 buffer and oilness nylon coupler yoke support plate wear plate.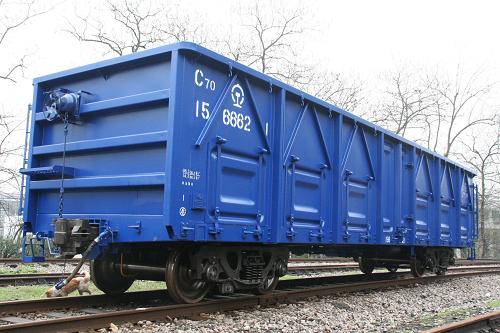 Main use: this wagon is used for Chinese standard-gauge railway, mainly to load and transport coal, ore, of building material, machinery equipment, steel, woods and other cargo as the general purpose railway wagon. Besides its capacity for manual loading, it can meet the requirements of mechanical loading by dumper and defreezing silo.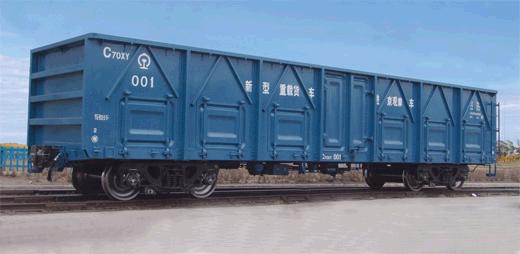 Main technical parameters
| | |
| --- | --- |
| Loading capacity(t) | 70 |
| Tare weight(t) | <23.6 |
| Axle load(t) | 23 |
| Volume(m3) | 77 |
| Special volume(m3/t) | 1.1 |
| Coefficient of tare weight | 0.33 |
| Load per meter of track(t/m) | <6.69 |
| Commercial operation speed(km/h) | 120 |
| Minimum radius of curvature negotiable(m) | 145 |
| Length of vehicle(mm) | 13976 |
| Length between bogie pivot centers(mm) | 9210 |
| Length inside vehicle body(mm) | 13000 |
| Width inside vehicle body at upper side plate(mm) | |
| Width inside vehicle body(mm) | |
| Height inside vehicle body(mm) | |
| Coupler centerline height(mm) | |
| Maximum width of vehicle(mm) | 3242 |
| Maximum height of vehicle(mm) | 3143 |
Contact us: