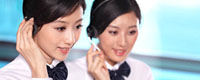 Name: Wangweiji(General manager)
Tel: 86-10-6280 0700
Fax: 86-10-6280 0297
Mobile: +86-13911690083
E-mail: WangWeiJi@clima.org.cn
Add: 3A07,YinGu Plaza, NO.9 West Road, North Fourth Ring Road, Haidian District, Beijing 100080, China PR

Xiping railway wagon freight business Qingyang Changqing Bridge Station officially opened
China Gansu Network April 10 hearing, according to newspaper reports Longdong (Reporter Li Bin) April 9, the reporter from the Municipal Government Information Office held a press conference was informed Xiping Changqing Bridge Railway wagon Station freight business now officially open , the city's road transport of goods thanks to the end of history.
Xiping railway on December 20, 2013 was opened to traffic, a total length of 236.1 km, the design speed of 120 km, the transport capacity of 30 million tons of cargo / year, in-line passenger traffic of 1.6 million / year. Xiping line within a total length of 15.63 km in Qingyang City, South County has Changqing Bridge and two railway stations, designed to 6 million tons of cargo / year, passenger traffic 80,000 passengers / year. Changqing Bridge station for passenger and cargo transport two stations, the home jurisdiction of Lanzhou Railway Bureau; County South Station for dedicated freight energy base stations, the home jurisdiction of Xi'an Railway Bureau.
March 31 this year, China Railway Corporation Transport Bureau formally approved Changqing Bridge Station carried freight business to transact business, at present, the required cargo transport station line, yard equipment, handling equipment, such as cranes and stevedores lounge facilities has fully complied with. The official opening of the freight business Changqing Bridge Station, marking the city no railway history thanks to road transport of goods ends.
Cargo Centre director Yinchuan, Lanzhou Railway Bureau introduced at a news conference, a long time, Qingyang food, bio-organic fertilizer, cement mill, proppant fracturing of oil and coal and other goods shipped difficult, is the bottleneck restricting economic development One. Changqing Bridge Station opened freight business to help enterprises more convenient and efficient shipping goods products, reduce logistics costs of local enterprise products. It is reported that Changqing Bridge Station Yard Station is located on the north side, covers 41,840 square meters, the capacity number 18, is currently only for vehicle cargo. With the continuous expansion of the freight business in the future, and will handle the Bulk cargo, loose cargo, bulk Express, a price, in the new pipes, new business straight. Railway cargo transport business department take customer service calls received, customer service phone 12306 Railway Bureau accepted, China Railway wagon Customer Service Center 12306 website admissible admissible operating room face to face, and customer acceptance home online self acceptance and other means. "Changqing Bridge Station opened freight business, opened a new era in Qingyang railway cargo transportation, will lead the development of industrial parks and Changqing Bridge Qingyang City Industrial Economy and logistics industry, to service local businesses, facilitate goods transport, reduce logistics costs and enrich people's production and living needs to play an important role. "City of Industry and Information Committee Lord Yuxi said at the press conference.