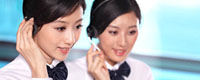 Name: Wangweiji(General manager)
Tel: 86-10-6280 0700
Fax: 86-10-6280 0297
Mobile: +86-13911690083
E-mail: WangWeiJi@clima.org.cn
Add: 3A07,YinGu Plaza, NO.9 West Road, North Fourth Ring Road, Haidian District, Beijing 100080, China PR

Xinkaipu Changsha railway wagon bridge completed May 10
At 16:30 on April 23, a large piece of crawler cranes weighing 16 tons of steel beams hanging from the railway wagon bridge to the ground, the Beijing-Guangzhou railway tracks Xinkaipu railway bridge restoration project was officially launched.
China Railway 25th Bureau three companies Xinkaipu railway bridge reconstruction project chief engineer Tan Hai package introduced by the Guangzhou Railway Group approved next two weeks, the daily 9:00 to 11:00, 16:00 to 6:00, Beijing-Guangzhou Railway Xinkaipu track railway bridge will have a closed construction. After May 10 completed the transformation of the railway bridge, passing academy Xinkaipu Railway Bridge to be restored by the Changsha Municipal Corporation, around the beginning of July this year, traffic bottlenecks will be expected to get rid of over the years, after the transformation of the new Beijing-Guangzhou Railway Shop open two-way eight-lane overpass welcoming.

Now passing from north to south railway bridge Xinkaipu vehicle, from two sides across the passage, and south to north across the bridge can not only bypass, to July this year after the opening of the railway wagon bridge, all vehicles can be bi-directional cross traffic from the middle of the two main side span to go east and west sides of the non-motor vehicles and pedestrians.