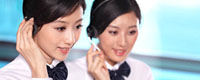 Name: Wangweiji(General manager)
Tel: 86-10-6280 0700
Fax: 86-10-6280 0297
Mobile: +86-13911690083
E-mail: WangWeiJi@clima.org.cn
Add: 3A07,YinGu Plaza, NO.9 West Road, North Fourth Ring Road, Haidian District, Beijing 100080, China PR

Statistics show that high-speed passenger railway wagon boost Qinghai four percent increase in volume
last year, to support the rapid growth of railway passenger traffic volume is a new high-speed rail Lan opening.
A quarter of the province's passenger traffic 12,634,800 passengers, an increase of 7.7%, including railway passenger traffic increase of 41.8%. 3.2% compared to the highway, aviation growth in the amount of 7.7%, an increase of railway passenger traffic volume is large; and rail passenger traffic in the first quarter of 2014 grew by 2.4% compared to the amount, it is 17 times higher.
Reporters learned from the Qinghai-Tibet Railway Company, Portland new high-speed rail since December 26, 2014 opened a new business to April 4 this year, exactly 100 days, sent a total of 525,600 passenger trips, day trips 5256, an additional 339 EMU trains, increase transport capacity 207,800 people. Rapid growth in passenger makes Chenzhan Ying fully understood Xining Station Passenger workshop director, he said: "Xining station from the original pure Pu-speed train station into a high-speed, general-speed mixing station, passenger trains increased from 26 pairs to 40 pairs, In terms of passenger sent by the last day of Xining Westbahnhof send 8,000 people, to the current day to send 13,000 passengers, especially during the spring of this year, the highest traffic close to 50,000 people. "
Lan new high-speed rail operators, passengers travel further shortens travel time, improve the traveling environment, especially in EMU-weather, high-speed transport characteristics, greatly reducing the weather, distance passenger travel has affected to render passenger travel more planned. On the other hand, the new high-speed rail Lan EMU opening line to the Qinghai tourism development has injected new vitality, many travel agencies to actively engage with the Qinghai-Tibet Railway, the use of EMU to design tourism products. Meanwhile, the railway wagon company is to communicate with the Qinghai tourism sector linkages, around the door source, attraction Qinghai Lake, lofty salt bridge tourist attractions, optimizing passenger trains run time and stop time, to meet the travel needs of passenger travel by train.