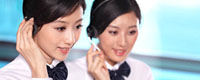 Name: Wangweiji(General manager)
Tel: 86-10-6280 0700
Fax: 86-10-6280 0297
Mobile: +86-13911690083
E-mail: WangWeiJi@clima.org.cn
Add: 3A07,YinGu Plaza, NO.9 West Road, North Fourth Ring Road, Haidian District, Beijing 100080, China PR

Russia's largest border crossing point: the end of the new railway wagon station was opened Suifenhe
  YORK, April 16 (Reporter printed package Bailin He Lei Wei Hai overpayment) Suifenhe early spring, the railway wagon sun was shining. State Road 301 is located in the north of a construction site, workers are busy building blocks.
  Engineering Bulletin "Mu Sui Binsui the railway expansion renovation project tenders Suifenhe station house" project name is somewhat complicated striking locals are affectionately called "the new railway station."
  "The new railway station," a total construction area of ??nearly 20,000 square meters, equipped with the latest electronic port inspection equipment, set up a two-way channel 12 international passenger inspection, international and domestic waiting room, ticket office, lounge, private dining rooms, underground tunnels and other functional areas everything; before the new 40,000 square meters of public transport hub station works and other ancillary facilities, the new international terminal, rail road can achieve zero transfer.
  A year ago, the "new railway station" start building now, "the new railway station," station house main structure has been capped, project into the decoration, decoration construction phase. "Decorated with gold inside and outside the station, waiting hall turned 'Golden Hall' ', the new deputy chief engineer of the train station project Xing Qi conceal his excitement.
  For builders who, in addition to the beautiful outside, the new railway station has more significance. Station house was opened to traffic by the end of 2015, will further improve the railway wagon crossings infrastructure, to meet the annual capacity of 16.8 million inbound and outbound passengers, becoming the largest Sino-Russian border crossing point line. Mudanjiang to Suifenhe between passenger trains will also be time-consuming way to shorten the four hours to one hour, will bring the fire of cross-border tourism and business contacts between China and Russia, to boost Sino-Russian trade rapid increases in new symphonic interpretation of Longjiang Silk Road.