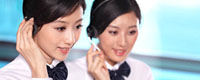 Name: Wangweiji(General manager)
Tel: 86-10-6280 0700
Fax: 86-10-6280 0297
Mobile: +86-13911690083
E-mail: WangWeiJi@clima.org.cn
Add: 3A07,YinGu Plaza, NO.9 West Road, North Fourth Ring Road, Haidian District, Beijing 100080, China PR

Northern Venture: railway wagon needs to be less than a quarterly performance-losing Ordnance Group
  Investment Highlights:
  1. events.
  The company released 2014 annual report and a quarterly Pre-losing announcement, in 2014 revenues of 2.984 billion yuan, down 6.86%; net profit of 201 million yuan, down 22.19%; EPS of 0.24 yuan. Company intends for every 10 shares were distributed 0.25 yuan. A quarterly Pre-losing 22.9 million yuan.
  2. Our analysis and judgment.
  (A) railway wagons shrinking demand, short-term is difficult to reverse the downward trend.
  Since the second half of 2014, affected by China's macroeconomic slowdown, demand a serious shortage of railway wagons, a lack of continuity and new orders dropped significantly, resulting in a larger decline in performance of the company. 2014 gross margin was 17%, down nearly 1pct.
  Currently, iron Corporation, Shenhua Group and other large customers have a certain number of trucks sealed, the National Railway truck purchases also fell from 57,300 in 2012 to 21,000 in 2014, the market demand for a serious decline. As China's economy has entered a "new normal", in addition to gradually reduce coal consumption is expected to demand a certain period rail freight clunker.
  2015 first quarter, the company no new orders for railway wagons, the basic idle production capacity, staff burdened company's operating performance is accelerating downward.
  Taking into account the first half of 2014 better performance, higher base, company performance loss is difficult to reverse the downward trend in the short term.
  (B) wait for demand recovery product upgrades; export business to make progress.
  The main driving force for the performance of the company-owned cars, trucks and military exports. The first half of 2014 the company orders full, new orders over 4751 (Shenhua 2800, the national railway 700, Ethiopia 1100, the other owned car 151), market development has made some breakthroughs, but orders declined significantly in the second half, Railway wagon orders have been unable to start, the future ability to execute with great uncertainty, resulting in gross margin decline of railway vehicles 1.5pct.
  In 2014 the company completed the research project 35, 10 of the vehicle to achieve new product development, high-margin orders in hand-owned car, 80-ton vehicles accounted upgrade, the company with the Shenhua railway trucking companies have signed a strategic cooperation agreement, R & D cooperation 30t axle load electronically controlled aluminum hopper cars; railway wagons to 100t class upgrades, future if demand picks up railway vehicles, or gross margin will rebound.
  In 2014 the company achieved a series of product development in Ethiopia, Australia ore gondola into the trial stage, for the North American market AAR certification and tanker design work has been started, the export business has made some progress.
  The company business plan for 2015: Plan implementation (consolidated) revenue 3.02 billion yuan.
  Where: Company headquarters is expected to achieve revenues of 1.8 billion yuan, the culmination of the equipment the company expects operating income of 600 million yuan, casting company achieved operating income of 210 million yuan is expected, special technology company expects operating income of 380 million yuan, the company expects to achieve Lutong spring revenue 140 million yuan, London Machinery Company expects operating income of 020 million yuan. (C) the replacement of assets is completed, the future, or to benefit from Ordnance Group reforms.
  In 2014 the company has completed the holding company of the rich to the company and a forging machine casting company, a machine equipped with six branches and the culmination of the company's investment in the relevant asset replacement, the newly established Inner Mongolia First Machinery Group Co., Ltd. and Inner Mongolia Foundry Group, a specialty machine technology Equipment Co., Ltd. since September 2014 has been consolidated, the company increased the special equipment and casting and forging business segments, and stripped the poor profitability of the crankshaft forgings business segments. The company's future profitability is expected to improve.
  Inner Mongolia, a major shareholder Machinery Group is the only national main battle tanks and 8x8 wheeled combat vehicle research and development base. Ordnance Group currently securitization levels less than 20%, Ordnance Group vigorously promoting the "no go zone" of reform, we believe that the future of Northern Venture Capital Group may benefit from the operation of weapons.
  3. investment advice.
  The company lowered earnings forecasts; 15-17 years is expected EPS of 0.23 / 0.28 / 0.33 yuan, PE times for 72/58/50. If the future of Ordnance Group started the capital, does not exclude the possibility of the company's valuation and performance double promotion. Taking into account the company's main business performance in 2015 showed a downward trend, downgraded to "cautious recommendation."
  Risk Warning: Railway wagon orders continue to decline; railway wagons lower than expected revenue recognition; overseas export risks; owned Ordnance Group "no go zone" reform than expected.