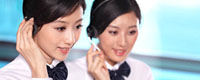 Name: Wangweiji(General manager)
Tel: 86-10-6280 0700
Fax: 86-10-6280 0297
Mobile: +86-13911690083
E-mail: WangWeiJi@clima.org.cn
Add: 3A07,YinGu Plaza, NO.9 West Road, North Fourth Ring Road, Haidian District, Beijing 100080, China PR

Ningqi double-track railway wagon electrification project completed by the end of this year opened to traffic operations
Nanjing-Qidong railway wagon running through the middle of Jiangsu Province, is an important component of the country's rapid rail network and the Yangtze River Delta inter-city rail network. Speed ​​up to 200 km double track electrified after the transformation was complete. 7, from Yangzhou Railway Office was informed that the project will be in September this year, commissioning, by the end of this year will be opened to traffic operations.
Yangzhou Railway Office Director PROJECTILES said that the current construction of a railway in Jiangsu have four, there are seven new railway. By 2020, the province of Jiangsu railway mileage more than 4000 km, fast railway mileage more than 2400 kilometers, basically formed the "three vertical and four horizontal" as the province's rapid rail network architectures. Yangzhou six traffic artery include Nanjing-Qidong railway under construction and even Huaiyang railroad town, Shaanxi and Shanghai high-speed Beijing-Shanghai Expressway, the Yangtze River and Beijing-Hangzhou Grand Canal, which are in Yangzhou intersection, the formation of three major transportation hub points.
Ningqi electrified double-track railway project length of 268.3 kilometers, with a total investment of 12.71 billion yuan, Nanjing-Qidong railway wagon from Nanjing Forestry Station via Liuhe, Yizheng, Yangzhou, Jiangdu, Taizhou, Jiangyan, MSC, Rugao, Nantong Qidong, initially for the country Class I single-track railway, the design speed of 120 km / h. Speed ​​up to 200 km double track electrified after the transformation was complete. Which opened this year by the end of the line, then, Yangzhou to Nanjing motor car ride takes 40 minutes, along the city Yangzhou, Taizhou, Nantong will enter the "EMU era."