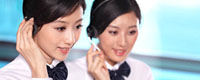 Name: Wangweiji(General manager)
Tel: 86-10-6280 0700
Fax: 86-10-6280 0297
Mobile: +86-13911690083
E-mail: WangWeiJi@clima.org.cn
Add: 3A07,YinGu Plaza, NO.9 West Road, North Fourth Ring Road, Haidian District, Beijing 100080, China PR

Beijing Railway wagon Bureau yesterday, "May Day" mini vacation transportation is from April 30 until May 3, Beijing Railway Bureau is expected to send passengers 4.35 million passengers, an increase of 4.6%. Sunrise is expected to peak passenger flow now May 1, sending 1.25 million passengers.
For the convenience of passengers, "May Day" holiday travel, May 3 Beijing Beijing Bureau to hold an additional train G4617 north west of Xi'an. So far, the Beijing Railway Bureau has determined to open in Shenzhen, Wuhan, Baoji, Qingdao, Jinan, sunshine, Hangzhou and other tourist attractions of the city train 29 times.

During the holiday, the Beijing-Guangzhou high-speed railway, the Beijing-Shanghai high-speed railway, the Beijing-Tianjin inter-city trains will run full figure, Beijing North Railway Station S2 line will open the line 12 pairs of trains.

Meanwhile, the five directions Beijing Railway wagon Bureau will open the line Jiangxi, Shaanxi, Zhejiang, Hunan, Sichuan and the free exercise of car transport trains. CDB time for April 27 to May 12. The opening line of five directions by car motor transport trains, assembly and delivery of public places in Beijing are located in dahongmen station.