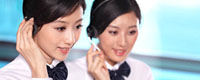 Name: Wangweiji(General manager)
Tel: 86-10-6280 0700
Fax: 86-10-6280 0297
Mobile: +86-13911690083
E-mail: WangWeiJi@clima.org.cn
Add: 3A07,YinGu Plaza, NO.9 West Road, North Fourth Ring Road, Haidian District, Beijing 100080, China PR

Details:
NX70 flat wagon
Production description : the NX70 flat wagon is a four-shafter axle flat bogie wagon with multi-function of loading and tranporting, standard railway guage and 70t loading capacity. It's capable of loading containers of 1AAA, 1AA, 1A, 1AX, 1CC, 1C, 1CX set by ISO 668: 1995 series 1 container-classification, size and rated weight. In addition, it can load and transport steel, automobiles, tractors, case-cargo, large-scale concrete bridges military fittings, and so on.

The amount and form of containers
| | | | |
| --- | --- | --- | --- |
| Case Model | Quantity | Placing form | Total rated weight |
| 1AAA, 1AA, 1A, 1AX | 1 | Place in order | 30.48t |
| 1CC, 1C, 1CX | 1 | Place in order | 60.96t |
| International 45ft non-standard case | 1 | Place in order | 30.48t |
| International 48ft non-standard case | 1 | Place in order | 30.48t |
| International 50ft non-standard case | 1 | Place in order | 30.48t |
Main technical parameters
| | |
| --- | --- |
| Track gauge(mm) | |
| Loading capacity(t) | |
| Tare weight | |
| Convergent load(t/m) | 30t/1m, 35t/2m, 45t/3m, 50t/4m, 55t/5m |
| Length of the car(mm) | |
| Width of the car(mm) | |
| Commercial operation speed(km/h) | |
| Bogie | |
| Coupler | No.17 coupler made of E level steel |
Contact us: